Devin's White Diamond Ensemble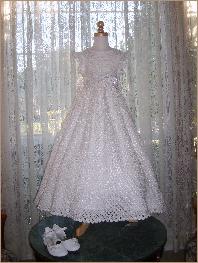 (Click image to view other photos)
Dress is photographed with extra full petticoats.
Size
Chest
Waist
Tea Length
Ballgown Length
2 (fits 3)
23"
21"
26½"
32"
4 (fits 5)
25"
23"
28½"
35"
6
26"
24"
32½"
38"
8
27"
25"
36"
41"
NOTE: Please allow 1" to 2" between body and garment for comfort and easement. Length measurement is from hollow of neck to hemline. Keep in mind adding full crinoline may shorten dress length by 1" to 2".
Custom sizes available; $15.00 additional charge






Care: Machine dryable, Machine washable
Style#: 011DWD
Starting Price:$169.99 complete ensemble*
Dresses are meticulously handmade and require at least 6 - 8 weeks to create.**
(custom order only)
This design combines various techniques to create a one-of-a-kind traditional style. This Special Occasion dress will look stunning as your flower girl makes her way down the aisle. She will love twirling and dancing in the glistening lined full skirt, satin, sequined and pearl sash and cheerful little shoe-clips or frilly anklets. You can adorn her dress and her hair with matching rose pin and hair pieces. And of course no outfit is complete without a coordinated purse. She will love being able to carry her small treasures and other "little girl essentials" in the fully lined purse.
This Special Occasion dress is made with soft lightweight yarn and stitched with the airy Love Knot stitch, which allows for fluid movement.
Whether the ensemble is for your little flower girl or another memorable occasion, this dress will become a dress to be cherished forever.
Payments by PayPal
$15.00 Personalization Sizes in inches
*Ensemble includes dress, anklets (size 2 & 4) or shoe-clips (size 4, 6 & 8), purse, two corsage pin, hair piece (wreath, barrettes or combs).
BONUS: Matching Crystal Jewelry Set - 16" Necklace, 6" Bracelet, 1" Drop earring

**For custom colors, please allow 1 additional week.