Melissa's Party Dress - Designer Exclusive**
(Shown in Ice Mint & Soft Sunshine)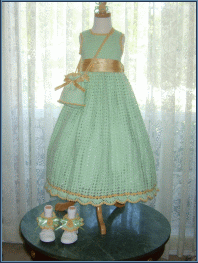 (Click image to view other photos)
Dresses are photographed with extra full petticoats.
Size
Chest
Waist
Tea Length
Ballgown Length
1
21"
19"
25½" (65)
Ø
2 (fits 3)
23"
21"
26½" (67cm)
32"
4 (fits 5)
25"
23"
28½" (72cm)
35"
6
27"
25"
32½" (83cm)
38"
NOTE: Please allow 1" to 2" between body and garment for comfort and easement. Length measurement is from hollow of neck to hemline. Keep in mind adding full crinoline may shorten dress length by 1" to 2".

Extra large sizes available by request






Care: Machine dryable, Machine washable
Style#: 007MPD-DEx
Starting Price:$149.99 complete ensemble*
Dresses are all handmade and will require at least 6 to 8 weeks to create.**
Custom order available on this item
Our openwork shell stitches and finishing techniques creates a picture perfect traditional style. The Melissa's Party Dress will shimmer with movement. Your special little girl will be sure to shine at the party in the generous full skirt with attached lining, satin sash and cheerful little shoe-clips or lacy anklets. You can adorn her dress and her hair with matching rose pin and barrettes. And of course no outfit is complete without a coordinated purse. She will love being able to carry her small treasures and other "little girl essentials" in the fully lined purse.
The Melissa's Party Dress is made with silky soft lightweight yarns, which is stitched in an open shell stitch and trimmed with tiny golden picots.
Whether the ensemble is for your little girl or a gift, the Melissa's Party Dress will become a present to be cherished forever.
Payments by PayPal
*Ensemble includes dress, sash, anklets (size 1 & 2) or shoe-clips (size 4 & 6), purse, one corsage pin, two hair barrettes.

**This Ensemble is a Designer Exclusive and is therefore not pre-made. Orders for this dress are on commission basis. Please email or call well in advance of your planned event.