Baby's DressyDress - Tiny Olivia Lace Ensemble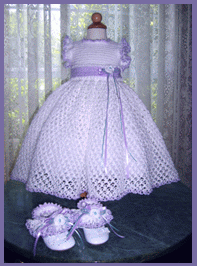 (Click image to view other photos)
Dresses are photographed with extra full petticoats.
Size
Chest
Finish Chest
Length
6mo - 12mo
19"
21"
19˝" (65)
24mo
21"
23"
21˝"
NOTE: Please allow 1" to 2" between body and garment for comfort and easement. Length measurement is from hollow of neck to hemline. Keep in mind adding full crinoline may shorten dress length by 1" to 2".
Ensemble Materials:
Sports Weight Yarn
Size
BERNAT Sports Weight Yarn – 5.6oz, 160 grams, 431 yards,394 meters
Main Color (MC)
BERNAT Sports Weight Yarn – 5.6 oz, 160 grams, 431 yards,394 meters
Contrasting Color (CC)
6mo - 12mo
2 Skeins
1 Skein
24mo
2˝ Skein
1 Skein
Naturally Caron Spa – 3oz, 85 grams, 251 yards, 230 meters (CC-LC)
Leaf Chain
Small amount
Satin-like Material (100% Polyester)
Cover Buttons
Small amount
Skirt Lining
1 1/2 yds
Satin Ribbon
1/4"-wide
10 yds
1/8"-wide
4 yds
Glass beads
6mm
10
4 -- 5/8" diameter cover buttons
2 -- 1 1/2" metal pin base
2 -- 1 1/2" barrette base
Style: 005P-TOL
Item: PDF ePattern (24 pages)
Skill level: Intermediate
Optional basic sewing skills
Instructions given:
sizes: 6mo - 12mo, 24mo
Light Sports Weight yarn
Our dress was done using:
BERNAT Baby Coordinates--Color Color 01000 White
BERNAT Baby Coordinates--Color 01010 Soft Mauve (looks like light violet)
Naturally Caron Spa—Color 005 Ocean Spray (for Leaf Chains)
Crochet Hook: Size 00 (E, 3.50mm) and 1 (2.75mm)
This design combines various crochet stitching techniques to create a one-of-a-kind traditional style. The Tiny Olivia Lace dress will encircle your precious little one in shimmering lace and roses. Our dress is designed with delicate butterfly sleeves and has a removable crochet sash that can be adorned with a corsage pin of ribbons, roses and glass pearl beads. You can create matching booties and a bonnet or anklets and hair barretts for a completed look.
Dress
Sash
Bonnet
Booties
Anklets
Roses
Fully illustrated sewing measurements and instructions are included in this pattern: (Instructions ONLY--separate skirt lining pattern NOT included)
Craft instructions included in this pattern:
Rose Medallion construction
Corsage Pin construction
Barrette construction
The Tiny Olivia Lace dress is made with soft lightweight yarn and stitched with the airy Love Knot stitch, which allows for fluid movement. There are instructions given for sleeveless or butterfly sleeves.
Whether the ensemble is for your little girl or a gift, the Tiny Olivia Lace dress will become a present to be cherished forever.


For our EU customers only click here
Payments by PayPal
Please check your "spam" or "junk" email box for our auto message for download instructions. Mark Silk Orchid Gallery website as safe for future email messages.